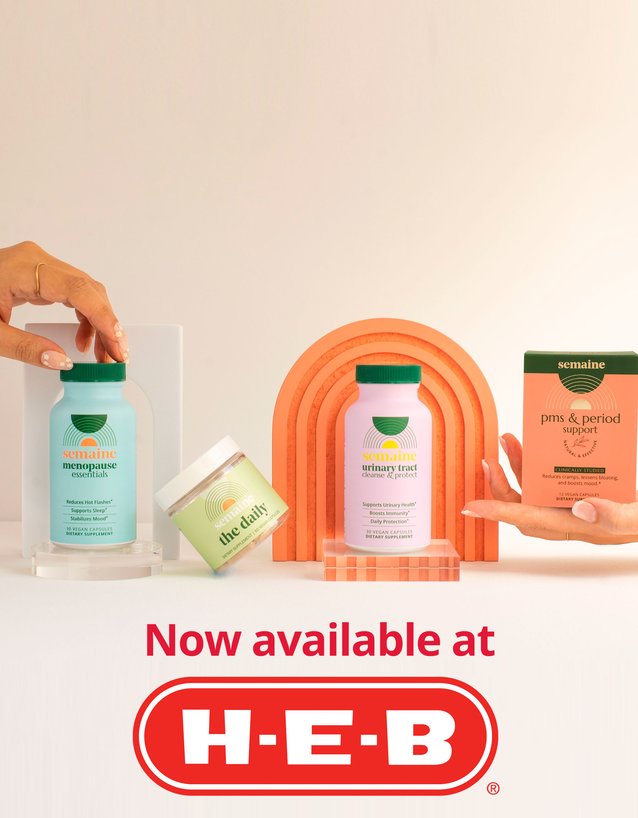 Super-Powered
Supplements
Super-Powered Supplements

Semaine supplements are in the same aisle as the pads and tampons
What Semaine Users Are Saying
I've tried literally EVERYTHING when it comes to my period. I finally found these and they are a GAME CHANGER!
Every previous time I've gone off birth control I get the worst breakouts. Using The Daily I went off birth control and haven't had a single breakout!
There have been many days where I laid in bed and prayed to die so the pain would stop on my cycle. I tried these for the first time this month and I feel alive.
My craving for junk food has subsided and I am feeling fuller longer. Highly recommend for anyone who's struggling with their glucose!
I have fewer breakouts and fewer blood sugar crashes during my day! And no more random cravings for donuts!
My cravings went away within a week of starting The Daily. It has been a game changer for my (sloooooow) weight loss and wellness journey!
We are on a mission to empower everybody to love their hormones every day.
At Semaine Health we know first-hand how painful periods can be and how out of whack your hormones can feel. Instead of fighting against our bodies, we want you to feel empowered to help support your body with the highest quality ingredients in our supplements: Combining European heritage and traditions with American ingenuity Manufactured in an FDA regulated facility in the USA
We know what it's like to deal with bad periods and hormone imbalances.
We know firsthand what it's like not to have our pain taken seriously, and that's why we, twin sisters Cath and Lar, started Semaine. We tested Semaine on ourselves for 18 months as our third cofounder Matt used his science background (and Ph.D) to formulate the most effective solution.